Go Back
Hot on the heels of R22 Replacement, changes to F-Gas regulations came into effect in January 2015 after years of consultation and negotiation across Europe.
But how do these changes affect our customers?
Do you know the new threshold limits?
Or how often your equipment has to be checked?
Here at ACE Refrigeration, we can always help you stay compliant with F-Gas regulations, either as part of our service and maintenance contracts, or by installing fixed leak detection units to your refrigeration plant.
Fluorinated greenhouse gases (F-gases) gases are a family of chemicals that contain fluorine.
Most F-gases are very powerful greenhouse gases which contribute to global warming if emitted into the atmosphere.
HFCs (Hydrofluorocarbons) are common F-gases found in air conditioning and refrigeration systems.
The central element of these revised regulations is part of the phase down of HFC Refrigerants with a global warming potential (GWP) greater than 2500, with a complete ban on new equipment using these refrigerants effective from 2020 onwards.
However, recycled and reclaimed HFCs with greater than 2,500 GWP will still be allowed for servicing existing plants until 2030.
The previous classification confirming leak detection quantity per year based on refrigerant charge thresholds have now been replaced by a system based instead on carbon emissions per year.
All systems with a CO2 equivalent greater than 500 tonnes must have a fixed leak detection system installed.
But for any system with fixed leak detection installed, the quantity of leak tests required is reduced by 50%.

*     Leak check frequency is halved if automatic leak detection system is installed
**  The threshold for annual leak checks of hermetically sealed equipment is 10 tonnes CO 2
So do these changes affect you?
Well it depends on what refrigerants your current plant operates with, and how much you are using.
Different refrigerants have differing thresholds; all based on the carbon emissions.
The table below details the comparative refrigerant charge for the refrigerant type based on the new threshold.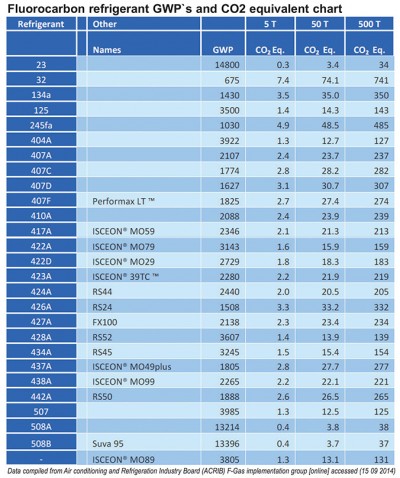 DOWNLOAD OUR F-GAS FACTSHEET HERE
A 15% loss of refrigerant can equate to a 50% drop in operating efficiency.
F-Gas leak checks and the legal requirement for leaks and any consequent repairs to be recorded in a maintenance log will help to
Reduce such efficiency losses
Reduce energy costs
Reduce refrigerant gas consumption
Reduce potential stock loss
Under  the  F-Gas  regulations,  system and  equipment  operators  have  an obligation  to  prevent  leaks.
If you operate stationary refrigeration and air conditioning systems, you must prevent any leaks or take action to remedy the situation immediately.
There is now a legal requirement to have all refrigerant leaks repaired, regardless of cost or technical implications; you are risking a fine of up to £5,000 for non-compliance.
Records will also need to be maintained for all equipment with a refrigerant charge of 5 tonnes CO2 equivalent and kept for five years.  This is the responsibility of the owner of the equipment.
Regulations will strengthen existing measures and introduce a number of far reaching changes.  The aim is to cut f-gas emissions across Europe by two thirds compared to 2014 levels.
Here at ACE Refrigeration, we can
Offer a complete F-Gas Audit Service
Devise a Leak Detection Programme
Complete F-Gas Asset list
Complete and update an F-Gas register in accordance with regulations
Supply, Install, Service and Maintain Fixed Leak Detection systems
If you are concerned about whether or not you are meeting these new regulations, or you want to speak to us regarding Leak Detection systems, then call 0141 556 7691 or email sales@acerefrigeration.co.uk today!
See all our Customer Case Studies and Client Testimonials by clicking here
SERVICE & MAINTENANCE
Our Service & Maintenance Department has dedicated teams of engineers who work together to achieve a service, which is fast, effective and reliable. Our reputation has been built upon our attention to detail and rapid reaction times. To help minimise equipment breakdown and the inevitable disruption to your business, we offer highly competitive maintenance contracts, individually tailored to meet your needs. And we can be contacted 24 hours a day, 365 days a year!
National capability
Engineer Vehicle Tracking
Bespoke maintenance packages
Plant operation analysis reports
Emergency Call out service 24/7/365
F-Gas compliance
Dilapidation reports
Quality Assurance Management Systems
Extended warranties
Clik Business Management – Direct Client Benefits
Clik assists ACE Refrigeration to offer a fast and effective service to our customers, with same day reporting and quotations supplied through Clik 4 Service Support System and the ACE Refrigeration Help Desk.
In addition, our clients can also access our Clik 4 Service Support System for reviewing:
Job Status
Quotation status
Parts awaiting status
Engineering field service reports
Planned maintenance schedules
Clik 4 Service Support System also holds all our site and customer profiles including:
SLA (Service Level Agreements)
KPI (Key Performance Indicators)
 F-Gas Registers
 Plant and equipment details
If you are concerned about whether or not you are meeting these new regulations, or you want to speak to us regarding Leak Detection Modules, then call 0141 556 7691 or email sales@acerefrigeration.co.uk today!