Fluorinated greenhouse gases (F-gases) gases are a family of chemicals that contain fluorine – most F-gases are very powerful greenhouse gases which contribute to global warming if emitted into the atmosphere.
HFCs (Hydrofluorocarbons) are the most common F-gases found in air conditioning and refrigeration systems.
Following revised F-Gas regulations, which came into effect on 1st January 2015, HFC Refrigerants with a global warming potential (GWP) greater than 2500 – a complete ban on new equipment using these refrigerants effective from 2020 onwards.
However, recycled and reclaimed HFCs with greater than 2,500 GWP will still be allowed for servicing existing plants until 2030.
And refrigerants with a GWP of up to 2500 can be used beyond 2020 in light/industrial plant, this includes blends which are mixtures of HFCs and HFOs.
Emerging market leaders so far include XP40 – also known as R449A -  a next generation HFO-based refrigerant that combines excellent cooling performance with improved energy efficiency and environmental properties.
With a GWP of just 1397, R449A provides a long-term refrigerant solution.
R449A is designed for use in positive displacement direct expansion low and medium temperature applications.
It is suitable for new installations with the advantage over Ammonia being that it is non-toxic and non-flammable.
It also allows for the straightforward retrofit of existing systems, especially those currently using R404A.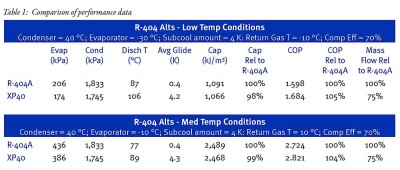 HFOs meanwhile are outside the definition of a fluorinated greenhouse gas in the new EU regulation, so there are no controls on them.
HFOs (Hydrofluoro-Olefines)  have excellent environmental properties, which could have a favourable long-term impact on climate change and abide by current and future legislation, owing to their low GWP and energy efficiency.
Most HFOs have service conditions similar to those of HFCs, this means existing equipment can still be used with little or no modifications
Upon our initial site survey, ACE can work with you to design the best solution which increases energy efficiency and reduces operating costs, as well as safeguarding your business for future growth.